FAST ETHERNET HUB FEH-516 (No longer available)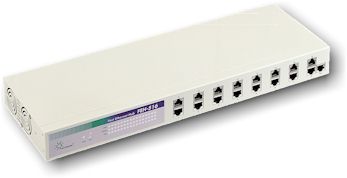 The Macsense FEH-516 is a simple, cost-effective way to provide lightning fast Ethernet connections for your growing network. This 16-port hub operates at a blazing 100 Mbps. With its sixteen RJ-45 female terminals, plus one uplink terminal, the FEH-516 can be used with either Category 5 unshielded twisted-pair cabling, or Type 1 shielded twisted pair cabling.
The FEH-516 is rack-mountable, or can be mounted to a wall or desktop. Front panel LEDs let you know exactly what's going on for at-a-glance troubleshooting. And if a segment fails, the 516's partitioning feature automatically identifies the link and disconnects. When the coast is clear, the unit automatically reconnects the segment -- no hassles.
The 516 features a high performance AMD chipset that will rise to the big demands of your small business. You can stack up to four units to provide as many as 64 users with Fast Ethernet access.
It's time to get your office into the FAST lane!
View the high-resolution image.
System interface

STP and UTP ports

Ports

16 x 100BASE-TX RJ-45
1 x Uplink RJ-45

Cable type

Category 5 UTP or STP, or Type 1 STP,
or equivalent 100Mbps twisted-pair cabling with straight-through wiring and RJ-45 plugs

Standards

Complies with IEEE 802.3u 100BASE-TX standards

Stackable

Yes

Rack Mountable

Yes

LED indicators

Power, Collision, Receiving/Jabber, Partition

Input power

Built-in100V to 240V AC 50/60 Hz (adjustment automatic)
Universal power supply

Emissions safety

FCC Class A, CE Class A

Dimension

440 x 150 x 44 mm
( 17.3" x 5.9" x 1.73" )

Weight

2.5kg ( 5.51lb )

Operating Temperature

0º to 45º C ( 32º to 113º F )

Storage Temperature

0º to 60º C ( 32º to 140º F )

Humidity

0% to 90% (non-condensing)